Tile Flooring in Pittsburgh PA
Discerning builders know about the impressive strength and beauty of tile floors. When you are looking for exceptional renovation results for your home, visit our showroom to explore our stunning collections of tile flooring. Our flooring products luxuriously boost the look and feel of your property without breaking your budget. Ceramic tile, porcelain tile, and slate tile are all available at affordable prices at our store. These tile varieties are known for offering maximum durability and minimum maintenance to all properties.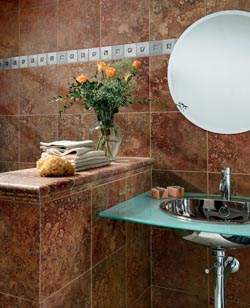 If it is time to upgrade your home or business's floor, consider tile flooring. It is a preferred choice for remodeling projections due to its many benefits. Perhaps the most famous advantage of tile is its longevity. These floors look great even decades after installation and holds up well to scratches, dents, and other types of damage. Even if one tile is somehow damaged, it can easily be replaced without redoing the entire floor. In addition to its durability, a tile floor is also extremely low maintenance. It resists stains and can be cleaned with nothing more than soapy water. This makes tile perfect for messy areas like kitchens and bathrooms, as well as households with pets and small children. Other benefits of tile flooring include its hypoallergenic properties. Tile does not accumulate dust, dirt, and other types of debris as easily as other types of flooring. Since it does not hold onto these particles, a tile flooring installation is also a great way to improve your indoor air quality. If you or a loved one suffers from asthma or allergies, tile is a good option for your home. It is even environmentally friendly. To learn more about the advantages of tile, stop by our showroom and speak to one of our flooring experts.
Elegant Ceramic Tile to Enhance Your Home's Design
Enhance your home's aesthetics with elegant ceramic tile. As one of the most versatile flooring options currently on the market, this flooring is known for its wide range of hues, patterns, and styles. It is the perfect solution when you are looking to upgrade the appearance of your home or business. Combining these floors with the right glaze or sealant makes it even more resistant to high humidity conditions, water damage, and stains. All our ceramic products are also very strong and well-constructed, no cracks and chips are not a concern.
Do you have a very specific design or image in mind for your home's décor? Ceramic tile is a customizable flooring option that can be manufactured to meet your property's individual needs. Our store carries a diverse array of different ceramic products that coordinate with countless design aesthetics. From imitating hardwood to mimicking natural stone, this flooring material can adapt to almost any creative whim, allowing you to bring life to the home you've always wanted. Don't compromise on your aesthetic ambitions; embrace the versatility and enduring beauty of a tile floor made of ceramic.
Modern Porcelain Tile for Your Home
When you want a modern look and feel for your home or business, come browse our store's vast inventory of porcelain tile. This stylish and durable flooring option retains its contemporary color and beauty while withstanding everything from heavy foot traffic to inclement weather. Installing this product allows you to create a one-of-a-kind floor with no concerns about stains, moisture, scratches, or fading. Make sure your home or business looks great for years to come by choosing from this durable flooring. Porcelain tile is just as aesthetically pleasing as it is strong. This gives you the ability to create forward-thinking designs with ease as you shop our wide array of colors, textures, styles. Like ceramic, porcelain is capable of imitating the appearance of many high-end building materials. Explore the possibilities by visiting our showroom and speaking with our helpful sales associates.
Bring Home the Natural Appeal of Slate Tile
Achieve a classic aesthetic by installing slate tile in your home. As one of the current most popular natural stone flooring options, slate is known for its attractive, rustic look and texture and its wide variance in appearance. Slate is a metamorphic stone that is formed from many different kinds of minerals, so slate can range in color anywhere from black to shiny green, red, purple, gold, and blue hues. Its surface is naturally uneven, as seen in cleft slate tile products, but it can also be smoothed out depending on your needs. Discover the versatility of slate as a flooring product by coming to our showroom and exploring our massive inventory.
Tile Flooring Installation by Certified Professionals
Get the most out of your flooring investment by having it install by certified professionals. Tile flooring installation is available through our store at an affordable price. Our installers have the right tools and experiences to install any and all of the products we sell, including our ceramic, porcelain, and slate flooring. Learn more about our installation service options and find unbeatable deals on tile flooring and other flooring products by shopping at our store. We are part of Flooring America, one of the nation's largest flooring retailers. That affiliation affords us the buying power to get great deals on a diverse array of brand name products. These savings are passed on to you, the customer, via our low prices. We also help you save money through special offers like free room measuring services and our Assurance Guarantee. Under the Flooring America Assurance Guarantee, your satisfaction is a done deal. If you have any issues with your new tile flooring, we will replace it for free with a product of equal or lesser value—no questions asked. For more information on this guarantee, our products, or our services, reach out to our team of knowledgeable flooring experts.
Contact our home improvement store for more details on our diverse array of tile flooring products. We proudly serve Pittsburgh, Bethel Park, Mount Lebanon, Upper Saint Clair, and Scott Township, Pennsylvania.