Elegant Tile Flooring in Pittsburgh, PA
Bring enduring beauty to your home by choosing tile for your rooms. Floor Designs Unlimited Flooring America is the place to shop for gorgeous ceramic, porcelain, and slate tile, among other styles. When you're looking for stunning and durable tile flooring in Pittsburgh, PA, visit our showroom. We carry tile styles to suit every taste.
Our store doesn't just sell tile, we install it too. We have trained installation professionals on staff who work with every product we sell, including our many different tile varieties. No matter which tile product you choose, you can count on our crew to install it flawlessly. Furthermore, we take care to ensure your tile installation project meets all relevant product warranty standards. Learn more about our tile collection and trained installers by contacting our store today.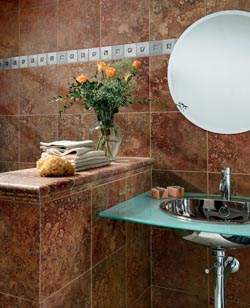 The Benefits of Tile Floors
Boost the value of your home or business by installing new flooring. Tile flooring works perfectly in just about any room of your home. Whether you are looking for an elegant floor for your living or dining room or a durable floor for your kitchen or bathroom, a tile floor is the way to go. Other benefits that come with these floors include:
Impressive Longevity
Low Maintenance
Easy to Clean
Improved Indoor Air Quality
Hypoallergenic Benefits
Why Tile Is Timeless
For centuries, tile has been one of the most favored flooring materials. It blends elegance and strength in every room. Tile has a unique, natural beauty and durability thanks to the materials it's made from. In fact, the tile floor you install today can continue to serve your family for years to come with right maintenance. To see for yourself how elegant tile can be, visit our showroom.
Professional Assistance from Selection to Installation
We are here to help you at every stage of your new flooring project, from product selection to tile flooring installation. When you visit our showroom, our team members are there to help you find the ideal surface for your home or business. Talk to our staff for recommendations and in-depth information on specific products. We are also happy to discuss financing options.
After you have chosen your new foor tiles, our installers are ready to go to work. It is important to install tile correctly to ensure it looks great and will last its full lifetime. That is why we offer installation by our team of certified experts.
Contact us for more details on our tile products and our installation services. We proudly serve clients throughout Pittsburgh, Bethel Park, Mount Lebanon, Upper Saint Clair, and Scott Township, Pennsylvania.