Luxury Vinyl Tile in Pittsburgh, PA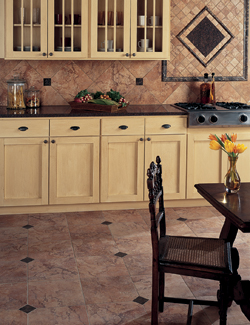 Make your space stand out for all of the right reasons when you shop with us for new vinyl flooring. At our local showroom, we feature an endless selection of luxury vinyl tile flooring. Whether you are looking for a way to update your kitchen, bedroom, or bathroom, you will find everything you need at our store. Vinyl floors are stylish, sturdy, and easy to maintain. This material is the most versatile flooring choice available today. We proudly carry unlimited options that will transform any part of your space. Shop with us today to explore our collection of vinyl tile and vinyl sheet flooring and make the right purchase for every home.
Are you ready for a style upgrade in your home? For a small change that has a major impact, choose our vinyl tile flooring. With our diverse selection of luxury vinyl floor tiles, you will achieve a bold new look that fits with any décor style. Enhance your property's lasting appeal with our extensive inventory of luxury vinyl floor tiles. Our options ensure you have the look you've always wanted, right down to the color and patterning.
When you are looking for a sturdy and stunning material for your home, choose vinyl flooring. Vinyl tile flooring is the same as luxury vinyl tile, or LVT. Vinyl tile flooring is one of our most popular floor styles, considering its elegance and timeless look. These tiles are easy to apply and may be arranged however you like. The modular nature of vinyl tiles makes these floors easy to install, and your options are limited only by your creativity. For an interior that is entirely your own, you simply cannot go wrong with vinyl tile.
Choosing Vinyl Floors for Your Home
Vinyl flooring is the material professionals and homeowners trust for dependable durability and lasting appeal. This unique flooring product contains several different layers that each work together to create a long-lasting material that stands up against daily wear and tear with ease. It is a resilient flooring material that resists stains, spills, scratches, and scuffs. Vinyl's waterproof nature makes it the ideal option for the kitchen, bathrooms, and other high-activity rooms. Why sacrifice aesthetics for durability? This flooring allows a range of visual options that suit your specific tastes. Utilizing the latest technology within the printing process, luxury vinyl emulates the look and feel of even the costliest stone materials and hardwoods. Unlike its stone and wood counterparts, vinyl retains its appeal and strength, allowing guests to walk and children to play in absolute comfort all throughout the year.
When you own your own home, you have enough things to worry about without dealing with scrubbing and maintaining your floors. Due to the high amount of traffic that most floors see on a daily basis, it is important to choose a material that will stand up to regular use. Vinyl sheet flooring offers homeowners a beautiful look that lasts for years to come. This flooring is family friendly, durable, and scratch resistant. This option is the key to floors for families with pets, younger children, or a higher level of foot traffic than average. It is designed to stand the test of time without the need for repairs or extensive cleaning and maintenance.
Every homeowner wants the classic look of hardwood. If you are looking for an alternative to this popular material, vinyl plank flooring delivers the style you want. To give your home a more natural appearance, explore our luxury plank flooring options. Plank floorboards emulate a hardwood surface, which contributes greatly to the appearance that a master craftsman has worked on your home. Vinyl plank floors are also known as LVP. Vinyl plank floors are very elegant, yet quite affordable when upgrading your home. Because our planks are printed to look as if they were specially selected from a lumberyard, each plank features different grain patterns and knot shapes that match the real thing. Choose from a vast selection of hardwood varieties and outfit your home with your favorite one for a style you'll be proud to show off to your loved ones.
Convenient & Professional Luxury Vinyl Flooring Installation
Create a more impressive space in your home with our luxury vinyl tile. Make your home as stylish as it is practical. No matter what tone you want to set, you are sure to find something you love when you shop our inventory of LVT or LVP floors. Available in a variety of patterns, these beautiful options take on the appearance of real stone, hardwood, or tile. By shopping with us for your vinyl floors, you will achieve a stunning visual impact at economical prices. Select from our wide range of vinyl options, and discover comfort, beauty, and class that works with your budget. Our company is proud to offer this flooring in a variety styles and colors. From luxury vinyl floor tile to planks, the customization options are virtually endless. Because the selection process can be difficult, we are here to help you decide on the perfect materials and designs for every room. Shop with our team today to make the right choice to transform your home with new flooring.
Once you have made the right choice for your new vinyl flooring, we are here to help you complete your remodeling project. Satisfy your decorating plans and your family's lifestyle requirements with an attractive and affordable vinyl flooring installation for any room in your home. Our contractors work hard to finish your job the right way the first time, saving you time and money on your installation. At our company, we make it a point to ensure your flooring efforts are as quick and efficient as possible. Our experienced luxury vinyl tile installation team is more than happy to complete your project for you. We have the tools and training to ensure your flooring is properly fitted to your home. With our services, you will never have to spend money on a flooring repair job in the future. We also back our products and services with special guarantees.

Find the flooring of your dreams in our store's luxury vinyl tile department. Contact our store in Pittsburgh, Pennsylvania, to learn more about our flooring selection and installation services.