Hardwood Flooring in Pittsburgh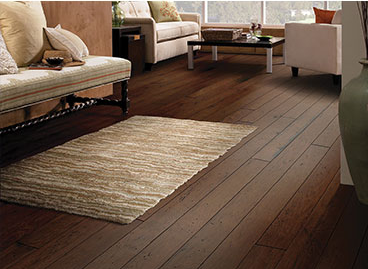 Take your home to the next lvel by upgrading outdated flooring surfaces. Make floor replacement your next home improvement project and get the results you desire. If you're ready to replace old floors now, turn to the trusted team from our local flooring store. We offer exceptional selections of engineered, solid, and hand-scraped wood. We also offer professional hardwood flooring installation to ensure you are perfectly satisfied with your new floors.
For decades, hardwood flooring in Pittsburgh has remained a fashionable favorite among the homeowners throughout our community. The natural beauty and durability of real wood flooring make it the ideal surface for any room. No matter what you have in mind in terms of style or price, you can depend on us to help you find a wood product that satisfies your needs in looks, performance, and price.
Offering You Countless Options in Wood Flooring
Engineered wood flooring is now in higher demand than ever before. The unique design of these planks consists of three to four bonded layers, which feature both real wood and resin. Topped with a veneer of real wood, engineered floors offer the same look and texture of the solid planks you prefer.
What makes engineered planks so popular is the fact they are less susceptible to wear and tear than their solid counterpart. Even in areas with high amounts of humidity, engineered won't warp or swell. This makes it ideal for placement in spaces like the basement, bathroom, and kitchen.
If you would rather opt for classic, solid hardwood, there's no better place to shop. We are proud to offer hardwood collections and lines from some of the leading brands in the industry. No matter what option you choose, you can rest easy knowing that its high-quality design will continue to satisfy far into the future.
From trendy hand-scraped hardwood to high-end glossy planks, we carry something for everyone at our location. Whatever solid plank you choose can be refinished at a later date to revitalize its appearance and extend its lifespan.
Among species options, oak flooring is a time-honored classic. Planks from this type of hardwood are tough and long-lasting. Oak wears well despite heavy foot traffic, offers a beautiful grain, and takes stain well. This means you have choices in color that range from white to natural to dark.
Many of our customers who want to install hardwood in their homes ask us for parquet flooring. This refers to pieces of wood arranged in geometric patterns, creating a unique look and distinctive appearance. Different types of wood are assembled in a visually appealing pattern for stunning impact.
Hardwood Flooring Installation
The customer service we provide doesn't end when you make a purchase. To ensure our products continue to satisfy far into the future, we back them with installations performed by trained technicians. When it comes to your hardwood flooring installation, our team is able to get the job done in a timely manner. From pre-installation design to post-installation cleanup, you can depend on us to deliver satisfying workmanship every step of the way.
We are so confident in our installers that we back their efforts with some of the most impressive assurances in the industry. One such assurance is the Confidence Plus Warranty. This warranty covers all of the 4 Star and 5 Star rated floors from our inventory. If you choose one of these hardwood options and decide you aren't in love with it within 30 days of the initial installation, we replace the floors with a similar product at no extra charge.

There's no better time than now to consider replacing your floors with services from our team. Learn more about the selection of hardwood flooring available at our location by calling 412-329-8036 or by filling out the convenient, on-page contact form. We serve customers throughout Pittsburgh, Bethel Park, Mount, Lebanon, Castle Shannon, and Upper St. Clair, Pennsylvania, as well as the surrounding areas.