Ceramic Tile in Pittsburgh, PA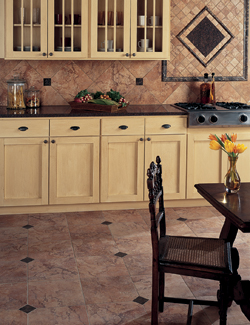 Save time and money by coming to the area's top source for ceramic tile. At our showroom, you'll find high-quality ceramic tile flooring options for any room of your home. Ceramic floor tiles are ever popular, and with good reason; they are durable, easy to clean, and distinctive. We also offer full-service installation for all the products we sell, so you'll save on both materials and labor. A tile floor made of ceramic is more affordable than you think.
Ceramic tile has been used in flooring, architecture, and decor for many centuries. This versatile material offers many advantages over other flooring products. It's waterproof, durable, and beautiful, making it ideal for use in any room. We offer a huge range of colors and patterns, so you can create any look, from a traditional design to something fresh and creative. Come to our store for ideas and inspiration. You'll be amazed at what's possible. Ceramic tile flooring is perfect for areas where it will be exposed to spills, splashes, or high humidity. Professionally installed tile is virtually impermeable and highly resistant to stains. For this reason, many designers choose ceramic tile for kitchen and bathroom floors. This material is also great for shower units, countertops, backsplashes, and more.
Ceramic tile also has many structural advantages over other flooring materials. It resists water, scratches, and stains with equal aplomb. It doesn't fade, even in direct sunlight, and it can be cleaned with little more than a push-broom and a wet mop. Ceramic tile murals are a popular and creative choice, as is wood-look ceramic tile. Ceramic floor tiles are a major selling feature in many homes. A professionally installed ceramic floor is an excellent way to impress potential buyers, as it proves that you have invested in quality materials that will stand the test of time. In fact, a new tile floor can make a significant impact on the selling price of a property.
Interior design is just the beginning. Ceramic tile is so resilient and weather-resistant that it can be used outdoors. Tile is suitable for patios, decks, and other entertainment spaces outside the home. With non-skid options that resist water absorption, you will find ceramic tile adds elegance to any outdoor space.
Tile Floor Made of Ceramic: Fast Installation at Low Prices
A new tile floor made of ceramic is just a phone call away. Whether your interest is in ceramic bathroom tile or decorative ceramic tile, we have the products and knowhow to make it work in your space. Our highly trained installation team makes the process quick and easy. We have the equipment, skill, and experience to ensure that every ceramic tile is installed correctly, according to the manufacturer's guidelines.
We are proud of our employees' dedication to the flooring trade and of the results they achieve. Our whole team works hard to ensure a perfect installation every time. We also tailor our services to suit your budget and schedule. Many customers worry that getting a new floor installed will get in the way of their day-to-day routine, but we work efficiently to minimize disruption. In a home, that means less hassle for you and your family; in an office, that means you'll be able to get back to business as usual as soon as possible.
Discover the Possibilities of Ceramic Tile
You might be surprised by the dramatic possibilities of ceramic tile. A single visit to our showroom will introduce you to a huge range of creative possibilities, and we're always happy to give suggestions and advice. Our team includes both product and installation experts who are happy to help you find the products that are perfect for your space. If you need help finding the right products for your indoor or outdoor space, don't hesitate to ask. Our goal is to help our customers get the best deals on high-quality ceramic floor tiles. We're interested in forming lasting relationships with our clients, not making a quick buck, so we'll never give you a hard sell -- just high-quality tile at the best prices you'll find anywhere.
Ceramic tiles are naturally modular, and they come in a huge range of shapes and sizes. Designers and architects use them in all sorts of unique and creative ways. From classic checkerboard patterns to elaborate mosaics, the possibilities are endless. Your imagination is your only limit. Choose quality you can trust. Ceramic tile is an extremely durable material, but not all tile is created equal. We source our products from the nation's most trusted manufacturers, including Floorcraft(tm), leading company on the cutting edge of the flooring industry. We stand behind every product we sell, and our tiles are backed by wear, fade, and stain warranties of up to 25 years.

Contact us in Pittsburgh, Pennsylvania, to discover more about the benefits of ceramic tile. We serve customers throughout the area, including Bethel Park, Mt. Lebanon, Castle Shannon, and Upper St. Clair.